The party season is always with us, but somehow the season leading up to Christmas makes women panic before they find that special evening party dress. The reaction is just the same if the search is for a prom dress.
This page includes a mixed range of dresses suitable for a variety of age groups. Mostly the available dresses in shops are sleeveless and this is a concern for many older women including myself. Once the tone in the arms goes, opt for little top arm cover-ups for these dresses. Somewhere there will be a jacket or shrug that makes a dress you might initially refuse to consider turn into a wearable option with a small top layer. See below and a bolero jacket here.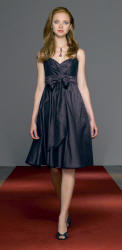 If you are younger then you can wear short evening party dresses that are totally feminine and show legs and plenty of bare shoulder.
Above Left - short dress from Matalan.
Right - A very pretty dress called the Bo Party Dress in dark purple at £135 and from Monsoon. It would also make a great short prom dress.
The time to get away with the skimpier look is when you are young and much lovelier than you will ever realise. One day it dawns on you that if only you had known how good you looked at 21, you would have had more confidence to wear clothes that really are difficult to wear wisely when you advance in years!
http://www.fashion-era.com/trends_2007a/2007_fall_fashion_trends_ladies_party_dress_2006.htm