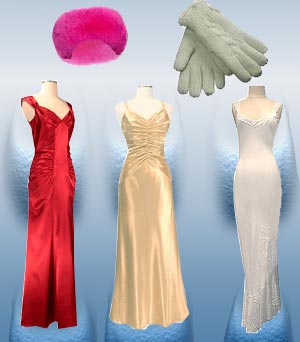 If you have planned a winter wedding, be sure you have an exciting wedding dress to complement the season and the festive spirit. With an emphasis on staying warm and comfortable, your winter wedding dress can be romantic and flowing. Don't compromise on your dream wedding dress on account of the weather. You can stay warm and still be stylish and look your best for your winter wedding.

Winter wedding dress
Gone are the days when brides preferred only to be wed in traditional white wedding dresses, replete with silk, lace and tulle. Winter weddings are becoming extremely popular and there are wonderful winter wedding dress options available. Wedding gowns in rich fabrics like crushed velvet, duchess satin, crepe, moiré, taffeta and brocade can be created in different styles. Winter wedding dresses can be selected in warm hues of forest green, deep blue, burgundy or black.

Classic colors like ivory and egg cream are always popular. Decide on the style for the wedding gown based on the temperatures in your region. Off-shouldered and halter necked wedding gown styles are best left for summer weddings. If you want to go in for such styles, opt for a sheer body suit underneath to keep you warm.

Create a winter wedding dress with chiffon illusion neckline – it will show some skin yet keep you comfortable. Do not forget thermal leggings or heavy white tights under your winter wedding gown. You can choose silk thermal pants for a sheer lightweight feeling. Long trailing dresses may not be suitable if you have to battle snow and mud. Longer wedding gown styles with long sleeves and higher necklines will keep you warm. Trouser suits can be considered as a bridal dress option. You can add a stylish cape to your winter wedding gown. Fur-trimmed, princess style, long sleeves – the possibilities are many.

A dressy shawl can also set off your wedding gown to best advantage. Embellish your gown and veil with seasonal trimmings; snowflake sparkles, Austrian crystal and silver ribbons. A rhinestone snowflake comb can be a wonderful winter wedding accessory for the bride. Choose from a range of stylish gloves to offset your winter wedding dress. Alternatively go for white satin hand muffs with satin straps. Bridal shoes are the next on the list. You can wear boots on the way to the church and change into your dress shoes once you are there. Choose closed-toe, closed-heel styles. Bridal shoes lined in fabric or leather will keep your feet warm. Use winter accents on the bridal bouquet. Use seasonal blooms such as poinsettias, magnolias, hydrangea and chrysanthemums.
http://www.targetwoman.com/articles/winter-wedding-dress.html